About Us
Formed in 1987, UK-based manufacturer Manrose is a leading manufacturer of domestic ventilation fans and equipment. Manrose offers mechanical extract ventilation fans, heat recovery products, hand dryers, electrical heating systems and cooling products.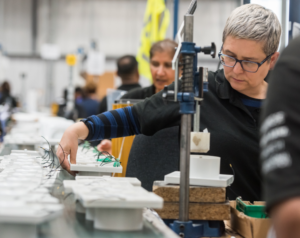 Manrose also provides accessories such as electrical controllers, electrical speed controllers, roof vent kits, ducting and ventilation accessories and boxed venting kits. Our products are used in various domestic and commercial applications.
Manrose's innovations are the result of listening to our customers and understanding their needs. With energy efficiency now a prime consideration, and often compulsory for new buildings, we have ensured that all of our products offer optimum performance, as well as introducing added value features such as the humidistat controlled fan.
Whilst Manrose has grown as a company, our founding principles remain the same as we pride ourselves on offering high quality, reliable, British-made products.