Manrose, a leading UK-based ventilation manufacturer, has launched the new stylish Quiet Fan X5 range. This latest bathroom fan ticks all the right boxes, with the Quiet Fan X5 promising ultra-low sound levels, as well as being IPX5 compliant so offering simple and flexible installation. Boasting Manrose's renowned reliability, while providing effective and efficient ventilation, the Quiet Fan X5 is set to prove popular with households, who will be impressed by both its performance and good looks, since it is available with an attractive new tile-like façade. As a result, electricians are set to benefit from more happy customers and improved 5-star review ratings.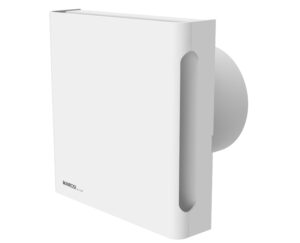 Offering an ideal upsell for electricians, the Quiet Fan X5 range offers an impressively high extraction rate of 90m³/hr, while maintaining an incredibly quiet running volume as low as just 25dB(A). With all models offering ultra-low sound levels, the Manrose Quiet Fan X5 will allow households to relax in comfort, free from noise-related stress and so help to avoid call-backs. Add to that the fan's IPX5 rating that means it can be safely installed within Zone 1 without the need for a low voltage transformer, and it's the ideal choice for a small bathroom, shower room or toilet, where space is at a premium.
"The Quiet Fan X5 is so reliable, we're sure that delighted customers will want to give their electrician a high 5! Households will also appreciate a bathroom free from condensation and mould without having to put up with the annoying drone associated with many bathroom fans", says Lee Warren, Sales Director at Manrose. "The tiled-like façade model is an attractive option that will look good in any bathroom. Add to that a 3-year warranty, a low energy motor and low Specific Fan Power (SFP) for lower energy bills and it's the obvious choice for electricians and households alike."
Featuring a low energy motor with a maximum consumption of 6 Watts and a low SFP of 0.29w/l/ the Quiet Fan X5 offers an energy efficient option for electricians to offer their customers. Meanwhile, its high quality, long-life motors are continuously rated and warranted for a minimum of 30,000 hours or 3 years. Available with a range of control options including Basic, Timer, Humidistat and PIR, the Quiet Fan X5 is suitable for both wall and ceiling mounting offering install flexibility.
The attractive Quiet Fan X5 is not only good looking, it is also rugged, and is manufactured using high gloss ABS thermoplastics for strength and durability. The Quiet Fan X5 comes complete with integral backdraught shutters and is double insulated so does not require an earth. The unit also includes a performance enhancing turning vane system located in the spigot to improve performance by maintaining a high output. The Quiet Fan X5 range complies with both Part F & L of the Building Regulations.
For further information on all products and services offered by Manrose telephone 01753 691399.