Manrose is offering a range of 'Winter Warmer' heating options allowing electricians to meet the varied needs of their customers. Many of us are spending more time than ever at home during the COVID-19 pandemic making a warm home more important than ever. With both fixed and portable heating options, installers can help keep customers warm whatever their requirements.
Not only is warmth a comfort issue, it's also a health issue. If a home is too cold, it's more likely to suffer from condensation and mould. Cold homes can also cause issues with conditions such as asthma, diabetes, arthritis and circulatory problems and can even cause increased blood pressure and risk of clotting, stroke, heart attacks and pneumonia. Electric heating is an ideal solution offering a simple and affordable way to add extra heating in the home. For occasional use, such as during a cold spell or when only a single room needs to be warmed, portable heaters, such as Manrose's floor standing convector heater, are the ideal choice. For more permanent heating, Manrose's range of wall-mounted electric panel heaters are quick and simple to install and can be programmed to come on whenever they are needed. And for outdoor heating, the Sunburst Radiant Heater provides instant, precision heating.
"We pride ourselves on the reliability of our products and our electric heating is no exception. Our range includes panel heaters, convector heaters and a radiant heater meaning there's a choice for everyone and electricians can install with confidence," said Clive Britton, Senior Sales Director at Manrose. "By offering electricians both fixed and portable heating options for their customers, it's never been easier to add warmth to a home."
The Manrose Lot 20 24/7 Panel Heaters are available in 1,1.5 and 2 kW options, connect directly to the permanent electricity supply, and offer two heat output settings depending on heating needs. Featuring a programmable timer with 12 pre-set programmes or a customised 'DIY' heating programme, these heaters are highly efficient with over 95% of used energy creating heat. Adding these heaters to a home causes minimal disruption as they don't require the pipework needed by traditional boiler heating systems. A simple connection to an electricity circuit is all that's required making electric heating easy for installers to fit it in a few minutes rather than the day or two needed for a traditional boiler heating system.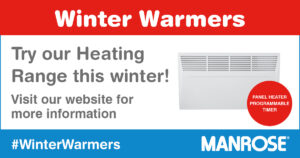 Meanwhile, Manrose's Convector Heater with timer is ideal for use in rooms where extra heating or occasional heating is required. This free-standing heater offers three heat settings, thermostatic control, a safety thermal cut-out and 24-hour timer function that allows the heater to be set to on or off in 15-minute time segments. Simple to set up, the heater can just be plugged in when required and moved to where it is needed.
Throughout the pandemic, meeting up outside has been the only option for many people. Radiant heating is the ideal solution, extending how long it's comfortable to sit in a garden. The Manrose Sunburst Radiant Heater warms up in just one second, is economical and easy to install and is IP65-rated meaning it safely works in the rain.
For further information on all products and services offered by Manrose telephone 01753 691399.